Imagine your first dance, you are on the dance floor, your friends and family surround you sharing this romantic moment. At just the right moment BANG!!! confetti is raining down on you. The result an amazing first dance picture, perhaps a surprise for your guests or your significant other.
Confetti Cannons are a great way to personalise your event or celebration. We supply everything you need including a trained operator who will set up the cannons and set them off at just the right moment. If you have an event or wedding photographer we will liaise with them to capture the moment perfectly.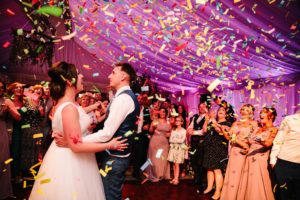 The confetti is available in a choice of colours including metallic and a choice of shapes such as rectangle, hearts even streamers.
Our cannons are ideal for :-
First Dance and other spotlight moments on your wedding day.
Spotlight moments at a celebration such as guest singing 'Happy Birthday'
With bands for a grand finale or encore!
Awards ceremony when 'The Winner' is announced.
Along side other special effects such as Spark Fountains and Dry Ice.
These are the colours available : Gold metallic – White and silver – Light blue – Red hearts – Blue metallic – Pink metallic – Black – Black metallic- Dark green – Dark blue – Multicolour – Multi colour metallic – Orange – Orange metallic – Pink – Purple – Red – Red metallic – Silver metallic – White – White metallic – Yellow – Green metallic – Light green