Imagine your first dance? Want to add something different to it?  The secret is, DON'T TELL YOUR GUESTS, and when all of a sudden there's a trickle of snow from above WOW, how good, and different will your first dance be?
Don't just imagine it, do it!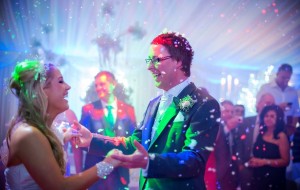 We can hire you a snow machine, and operate it, at key points in your evening, to add another unique component to your special day.  Also available for any party or event, from providing blizzards, to a trickle, the choice it yours!
These are great for school discos, and winter wonderland events. See how much fun can be had with a snow machine! Hire yours today, with a fun entertaining DJ, or on it's own.