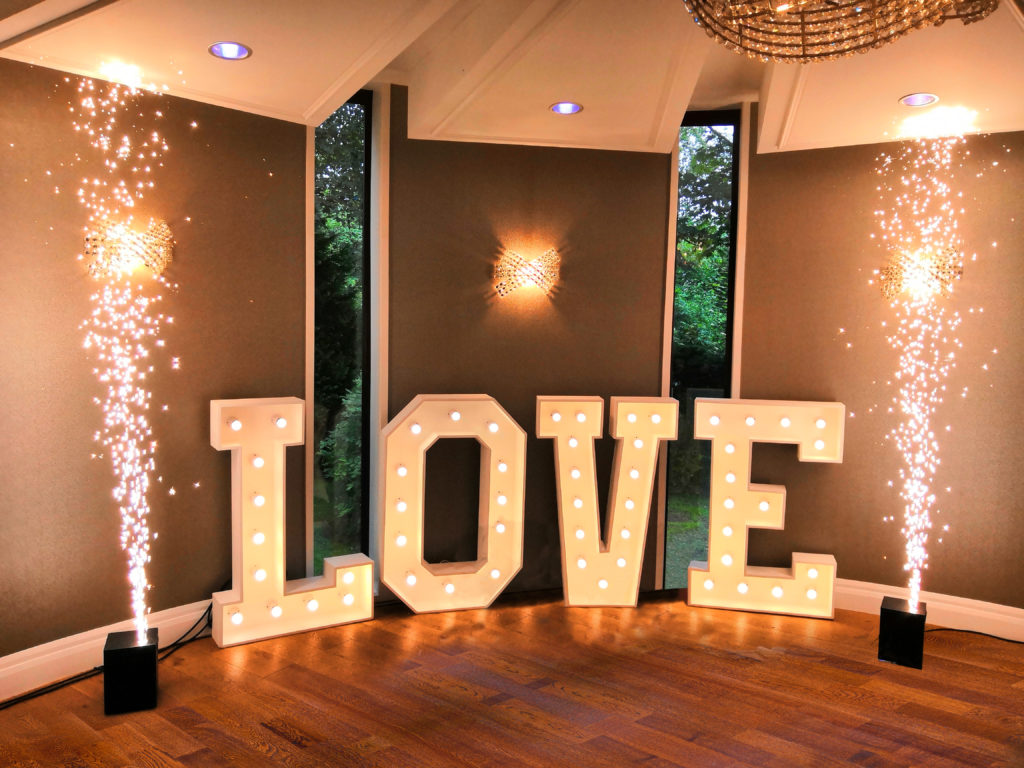 Letters are a great way to personalise any celebration. Standing at 4 feet tall they can be used as a centerpiece or backdrop for any room decoration. Filled with LED bulbs which can be used to provide atmospheric lighting and are a great photo opportunity.
We have virtually every letter and number combination available so whatever you are celebrating, this simple, cost-effective and stunning option is a great addition to any event or celebration.
The options available are: –
'LOVE'
'MR & MRS'
NAMES
NUMBERS
'#' Hashtag. (Great option for corporate events and businesses)
White or Coloured lamps available. (LED lamps stay cool)
White or Rustic Letter options
The letters can be combined with items from PC Roadshows. They look amazing with the Spark Fountains. What about a photo opportunity in front of the letters whilst it is raining Confetti? Combine your new married surname with our Star-lit backdrop and Twinkly Star-Lit dance floor for your white wedding.
Weddings, Birthdays, Celebrations, Corporate Events, Trade Shows, whatever the event we have the letters and numbers for it.
Contact us for more information and prices.
Love, Letters, Giant Letters, LOVE Lettrs, Mr & Mrs, Mr & Mrs Letters, Names, Numbers, light up names, light up numbers, light up letters Light up names Bedfordshire ,Light up names Berkshire ,Light up names Bristol ,Light up names Buckinghamshire ,Light up names including Milton Keynes ,Light up names Cambridgeshire ,Light up names Peterborough ,Light up names Cheshire ,Light up names Cheshire East ,Light up names Cheshire West and Chester ,Light up names Halton and Warrington ,Light up names London ,Light up names Cornwall ,Light up names Cumbria ,Light up names Derbyshire ,Light up names Devon ,Light up names Dorset ,Light up names County Durham Durham ,Light up names East Riding of Yorkshire ,Light up names East Sussex ,Light up names Essex ,Light up names Gloucestershire ,Light up names Greater London ,Light up names Greater Manchester ,Light up names Hampshire ,Light up names Herefordshire ,Light up names Hertfordshire ,Light up names Isle of Wight ,Light up names Kent ,Light up names Lancashire ,Light up names Leicestershire ,Light up names Lincolnshire ,Light up names Merseyside ,Light up names Norfolk ,Light up names North Yorkshire ,Light up names Northamptonshire ,Light up names Northumberland ,Light up names Nottinghamshire ,Light up names Oxfordshire ,Light up names Rutland ,Light up names Shropshire ,Light up names Somerset ,Light up names South Yorkshire ,Light up names Staffordshire ,Light up names Suffolk ,Light up names Surrey ,Light up names Tyne and Wear ,Light up names Warwickshire ,Light up names West Midlands ,Light up names West Sussex ,Light up names West Yorkshire ,Light up names Wiltshire ,Light up names Worcestershire and every town in the UK including Aberaeron ,Light up names Aberdare ,Light up names Aberdeen ,Light up names Aberfeldy ,Light up names Abergavenny ,Light up names Abergele ,Light up names Abertillery ,Light up names Aberystwyth ,Light up names Abingdon ,Light up names Accrington ,Light up names Adlington ,Light up names Airdrie ,Light up names Alcester ,Light up names Aldeburgh ,Light up names Aldershot ,Light up names Aldridge ,Light up names Alford ,Light up names Alfreton ,Light up names Alloa ,Light up names Alnwick ,Light up names Alsager ,Light up names Alston ,Light up names Amesbury ,Light up names Amlwch ,Light up names Ammanford ,Light up names Ampthill ,Light up names Andover ,Light up names Annan ,Light up names Antrim ,Light up namesAppleby in estmorland ,Light up names Arbroath ,Light up namesArmagh ,Light up namesArundel ,Light up names Ashbourne ,Light up names Ashburton ,Light up namesAshby de la Zouch ,Light up namesAshford ,Light up names Ashington ,Light up names Ashton in Makerfield ,Light up names Atherstone ,Light up names Auchtermuchty ,Light up names Axminster ,Light up names Aylesbury ,Light up names Aylsham ,Light up names Ayr ,Light up names Bacup ,Light up names Bakewell ,Light up names Bala ,Light up names Ballater ,Light up names Ballycastle ,Light up names ,Light up namesLight up namesBallyclare ,Light up names Ballymena ,Light up names Ballymoney ,Light up names Ballynahinch ,Light up names Banbridge ,Light up names Banbury ,Light up names Banchory ,Light up names Banff ,Light up names Bangor ,Light up names Barmouth ,Light up names Barnard Castle ,Light up names Barnet ,Light up names Barnoldswick ,Light up names Barnsley ,Light up names Barnstaple ,Light up names Barrhead ,Light up names Barrow in Furness ,Light up names Barry ,Light up names Barton upon Humber ,Light up names Basildon ,Light up names Basingstoke ,Light up names Bath ,Light up names Bathgate ,Light up names Batley ,Light up names Battle ,Light up names Bawtry ,Light up names Beaconsfield ,Light up names Bearsden ,Light up names Beaumaris ,Light up names Bebington ,Light up names Beccles ,Light up names Bedale ,Light up names Bedford ,Light up names Bedlington ,Light up names Bedworth ,Light up names Beeston ,Light up names Bellshill ,Light up names Belper ,Light up names Berkhamsted ,Light up names Berwick upon Tweed ,Light up names Betws y Coed ,Light up names Beverley ,Light up names Bewdley ,Light up names Bexhill on Sea ,Light up names Bicester ,Light up names Biddulph ,Light up names Bideford ,Light up names Biggar ,Light up names Biggleswade ,Light up names Billericay ,Light up names Bilston ,Light up names Bingham ,Light up names Birkenhead ,Light up names Birmingham ,Light up names Bishop Auckland ,Light up names Blackburn ,Light up names Blackheath ,Light up names Blackpool ,Light up names Blaenau Ffestiniog ,Light up names Blandford Forum ,Light up names Bletchley ,Light up names Bloxwich ,Light up names Blyth ,Light up names Bodmin ,Light up names Bognor Regis ,Light up names Bollington ,Light up names Bolsover ,Light up names Bolton ,Light up names Bootle ,Light up names Borehamwood ,Light up names Boston ,Light up names Bourne ,Light up names Bournemouth ,Light up names Brackley ,Light up names Bracknell ,Light up names Bradford ,Light up names Bradford on Avon ,Light up names Brading ,Light up names Bradley Stoke ,Light up names Bradninch ,Light up names Braintree ,Light up names Brechin ,Light up names Brecon ,Light up names Brentwood ,Light up names Bridge of Allan ,Light up names Bridgend ,Light up names Bridgnorth ,Light up names Bridgwater ,Light up names Bridlington ,Light up names Bridport ,Light up names Brigg ,Light up names Brighouse ,Light up names Brightlingsea ,Light up names Brighton ,Light up names Bristol ,Light up names Brixham ,Light up names Broadstairs ,Light up names Bromsgrove ,Light up names Bromyard ,Light up names Brynmawr ,Light up names Buckfastleigh ,Light up names Buckie ,Light up names Buckingham ,Light up names Buckley ,Light up names Bude ,Light up names Budleigh Salterton ,Light up names Builth Wells ,Light up names Bungay ,Light up names Buntingford ,Light up names Burford ,Light up names Burgess Hill ,Light up names Burnham on Crouch ,Light up names Burnham on Sea ,Light up names Burnley ,Light up names Burntisland ,Light up names Burntwood ,Light up names Burry Port ,Light up names Burton Latimer ,Light up names Bury ,Light up names Bushmills ,Light up names Buxton ,Light up names Caernarfon ,Light up names Caerphilly ,Light up names Caistor ,Light up names Caldicot ,Light up names Callander ,Light up names Calne ,Light up names Camberley ,Light up names Camborne ,Light up names Cambridge ,Light up names Camelford ,Light up names Campbeltown ,Light up names Cannock ,Light up names Canterbury ,Light up names Cardiff ,Light up names Cardigan ,Light up names Carlisle ,Light up names Carluke ,Light up names Carmarthen ,Light up names Carnforth ,Light up names Carnoustie ,Light up names Carrickfergus ,Light up names Carterton ,Light up names Castle Douglas ,Light up names Castlederg ,Light up names Castleford ,Light up names Castlewellan ,Light up names Chard ,Light up names Charlbury ,Light up names Chatham ,Light up names Chatteris ,Light up names Chelmsford ,Light up names Cheltenham ,Light up names Chepstow ,Light up names Chesham ,Light up names Cheshunt ,Light up names Chester ,Light up names Chester le Street ,Light up names Chesterfield ,Light up names Chichester ,Light up names Chippenham ,Light up names Chipping Campden ,Light up names Chipping Norton ,Light up names Chipping Sodbury ,Light up names Chorley ,Light up names Christchurch ,Light up names Church Stretton ,Light up names Cinderford ,Light up names Cirencester ,Light up names Clacton on Sea ,Light up names Cleckheaton ,Light up names Cleethorpes ,Light up names Clevedon ,Light up names Clitheroe ,Light up names Clogher ,Light up names Clydebank ,Light up names Coalisland ,Light up names Coalville ,Light up names Coatbridge ,Light up names Cockermouth ,Light up names Coggeshall ,Light up names Colchester ,Light up names Coldstream ,Light up names Coleraine ,Light up names Coleshill ,Light up names Colne ,Light up names Colwyn Bay ,Light up names Comber ,Light up names Congleton ,Light up names Conwy ,Light up names Cookstown ,Light up names Corbridge ,Light up names Corby ,Light up names Coventry ,Light up names Cowbridge ,Light up names Cowdenbeath ,Light up names Cowes ,Light up names Craigavon ,Light up names Cramlington ,Light up names Crawley ,Light up names Crayford ,Light up names Crediton ,Light up names Crewe ,Light up names Crewkerne ,Light up names Criccieth ,Light up names Crickhowell ,Light up names Crieff ,Light up names Cromarty ,Light up names Cromer ,Light up names Crowborough ,Light up names Crowthorne ,Light up names Crumlin ,Light up names Cuckfield ,Light up names Cullen ,Light up names Cullompton ,Light up names Cumbernauld ,Light up names Cupar ,Light up names Cwmbran ,Light up names Dalbeattie ,Light up names Dalkeith ,Light up names Darlington ,Light up names Dartford ,Light up names Dartmouth ,Light up names Darwen ,Light up names Daventry ,Light up names Dawlish ,Light up names Deal ,Light up names Denbigh ,Light up names Denton ,Light up names Derby ,Light up names Dereham ,Light up names Devizes ,Light up names Dewsbury ,Light up names Didcot ,Light up names Dingwall ,Light up names Dinnington ,Light up names Diss ,Light up names Dolgellau ,Light up names Donaghadee ,Light up names Doncaster ,Light up names Dorchester ,Light up names Dorking ,Light up names Dornoch ,Light up names Dover ,Light up names Downham Market ,Light up names Downpatrick ,Light up names Driffield ,Light up names Dronfield ,Light up names Droylsden ,Light up names Dudley ,Light up names Dufftown ,Light up names Dukinfield ,Light up names Dumbarton ,Light up names Dumfries ,Light up names Dunbar ,Light up names Dunblane ,Light up names Dundee ,Light up names Dunfermline ,Light up names Dungannon ,Light up names Dunoon ,Light up names Duns ,Light up names Dunstable ,Light up names Durham ,Light up names Dursley ,Light up names Easingwold ,Light up names East Grinstead ,Light up names East Kilbride ,Light up names Eastbourne ,Light up names Eastleigh ,Light up names Eastwood ,Light up names Ebbw Vale ,Light up names Edenbridge ,Light up names Edinburgh ,Light up names Egham ,Light up names Elgin ,Light up names Ellesmere ,Light up names Ellesmere Port ,Light up names Ely ,Light up names Enniskillen ,Light up names Epping ,Light up names Epsom ,Light up names Erith ,Light up names Esher ,Light up names Evesham ,Light up names Exeter ,Light up names Exmouth ,Light up names Eye ,Light up names Eyemouth ,Light up names Failsworth ,Light up names Fairford ,Light up names Fakenham ,Light up names Falkirk ,Light up names Falkland ,Light up names Falmouth ,Light up names Fareham ,Light up names Faringdon ,Light up names Farnborough ,Light up names Farnham ,Light up names Farnworth ,Light up names Faversham ,Light up names Felixstowe ,Light up names Ferndown ,Light up names Filey ,Light up names Fintona ,Light up names Fishguard ,Light up names Fivemiletown ,Light up names Fleet ,Light up names Fleetwood ,Light up names Flint ,Light up names Flitwick ,Light up names Folkestone ,Light up names Fordingbridge ,Light up names Forfar ,Light up names Forres ,Light up names Fort William ,Light up names Fowey ,Light up names Framlingham ,Light up names Fraserburgh ,Light up names Frodsham ,Light up names Frome ,Light up names Gainsborough ,Light up names Galashiels ,Light up names Gateshead ,Light up names Gillingham ,Light up names Glasgow ,Light up names Glastonbury ,Light up names Glossop ,Light up names Gloucester ,Light up names Godalming ,Light up names Godmanchester ,Light up names Goole ,Light up names Gorseinon ,Light up names Gosport ,Light up names Gourock ,Light up names Grange over Sands ,Light up names Grangemouth ,Light up names Grantham ,Light up names Grantown on Spey ,Light up names Gravesend ,Light up names Grays ,Light up names Great Yarmouth ,Light up names Greenock ,Light up names Grimsby ,Light up names Guildford ,Light up names Haddington ,Light up names Hadleigh ,Light up names Hailsham ,Light up names Halesowen ,Light up names Halesworth ,Light up names Halifax ,Light up names Halstead ,Light up names Haltwhistle ,Light up names Hamilton ,Light up names Harlow ,Light up names Harpenden ,Light up names Harrogate ,Light up names Hartlepool ,Light up names Harwich ,Light up names Haslemere ,Light up names Hastings ,Light up names Hatfield ,Light up names Havant ,Light up names Haverfordwest ,Light up names Haverhill ,Light up names Hawarden ,Light up names Hawick ,Light up names Hay on Wye ,Light up names Hayle ,Light up names Haywards Heath ,Light up names Heanor ,Light up names Heathfield ,Light up names Hebden Bridge ,Light up names Helensburgh ,Light up names Helston ,Light up names Hemel Hempstead ,Light up names Henley on Thames ,Light up names Hereford ,Light up names Herne Bay ,Light up names Hertford ,Light up names Hessle ,Light up names Heswall ,Light up names Hexham ,Light up names High Wycombe ,Light up names Higham Ferrers ,Light up names Highworth ,Light up names Hinckley ,Light up names Hitchin ,Light up names Hoddesdon ,Light up names Holmfirth ,Light up names Holsworthy ,Light up names Holyhead ,Light up names Holywell ,Light up names Honiton ,Light up names Horley ,Light up names Horncastle ,Light up names Hornsea ,Light up names Horsham ,Light up names Horwich ,Light up names Houghton le Spring ,Light up names Hove ,Light up names Howden ,Light up names Hoylake ,Light up names Hucknall ,Light up names Huddersfield ,Light up names Hungerford ,Light up names Hunstanton ,Light up names Huntingdon ,Light up names Huntly ,Light up names Hyde ,Light up names Hythe ,Light up names Ilford ,Light up names Ilfracombe ,Light up names Ilkeston ,Light up names Ilkley ,Light up names Ilminster ,Light up names Innerleithen ,Light up names Inveraray ,Light up names Inverkeithing ,Light up names Inverness ,Light up names Inverurie ,Light up names Ipswich ,Light up names Irthlingborough ,Light up names Irvine ,Light up names Ivybridge ,Light up names Jarrow ,Light up names Jedburgh ,Light up names Johnstone ,Light up names Keighley ,Light up names Keith ,Light up names Kelso ,Light up names Kempston ,Light up names Kendal ,Light up names Kenilworth ,Light up names Kesgrave ,Light up names Keswick ,Light up names Kettering ,Light up names Keynsham ,Light up names Kidderminster ,Light up names Kilbarchan ,Light up names Kilkeel ,Light up names Killyleagh ,Light up names Kilmarnock ,Light up names Kilwinning ,Light up names Kinghorn ,Light up names Kingsbridge ,Light up names Kington ,Light up names Kingussie ,Light up names Kinross ,Light up names Kintore ,Light up names Kirkby ,Light up names Kirkby Lonsdale ,Light up names Kirkcaldy ,Light up names Kirkcudbright ,Light up names Kirkham ,Light up names Kirkwall ,Light up names Kirriemuir ,Light up names Knaresborough ,Light up names Knighton ,Light up names Knutsford ,Light up names Ladybank ,Light up names Lampeter ,Light up names Lanark ,Light up names Lancaster ,Light up names Langholm ,Light up names Largs ,Light up names Larne ,Light up names Laugharne ,Light up names Launceston ,Light up names Laurencekirk ,Light up names Leamington Spa ,Light up names Leatherhead ,Light up names Ledbury ,Light up names Leeds ,Light up names Leek ,Light up names Leicester ,Light up names Leighton Buzzard ,Light up names Leiston ,Light up names Leominster ,Light up names Lerwick ,Light up names Letchworth ,Light up names Leven ,Light up names Lewes ,Light up names Leyland ,Light up names Lichfield ,Light up names Limavady ,Light up names Lincoln ,Light up names Linlithgow ,Light up names Lisburn ,Light up names Liskeard ,Light up names Lisnaskea ,Light up names Littlehampton ,Light up names Liverpool ,Light up names Llandeilo ,Light up names Llandovery ,Light up names Llandrindod Wells ,Light up names Llandudno ,Light up names Llanelli ,Light up names Llanfyllin ,Light up names Llangollen ,Light up names Llanidloes ,Light up names Llanrwst ,Light up names Llantrisant ,Light up names Llantwit Major ,Light up names Llanwrtyd Wells ,Light up names Loanhead ,Light up names Lochgilphead ,Light up names Lockerbie ,Light up names Londonderry ,Light up names Long Eaton ,Light up names Longridge ,Light up names Looe ,Light up names Lossiemouth ,Light up names Lostwithiel ,Light up names Loughborough ,Light up names Loughton ,Light up names Louth ,Light up names Lowestoft ,Light up names Ludlow ,Light up names Lurgan ,Light up names Luton ,Light up names Lutterworth ,Light up names Lydd ,Light up names Lydney ,Light up names Lyme Regis ,Light up names Lymington ,Light up names Lynton ,Light up names Mablethorpe ,Light up names Macclesfield ,Light up names Machynlleth ,Light up names Maesteg ,Light up names Magherafelt ,Light up names Maidenhead ,Light up names Maidstone ,Light up names Maldon ,Light up names Malmesbury ,Light up names Malton ,Light up names Malvern ,Light up names Manchester ,Light up names Manningtree ,Light up names Mansfield ,Light up names March ,Light up names Margate ,Light up names ,Light up namesLight up namesMarket Deeping ,Light up names Market Drayton ,Light up names Market Harborough ,Light up names Market Rasen ,Light up names Market Weighton ,Light up names Markethill ,Light up names Markinch ,Light up names Marlborough ,Light up names Marlow ,Light up names Maryport ,Light up names Matlock ,Light up names Maybole ,Light up names Melksham ,Light up names Melrose ,Light up names Melton Mowbray ,Light up names Merthyr Tydfil ,Light up names Mexborough ,Light up names Middleham ,Light up names Middlesbrough ,Light up names Middlewich ,Light up names Midhurst ,Light up names Midsomer Norton ,Light up names Milford Haven ,Light up names Milngavie ,Light up names Milton Keynes ,Light up names Minehead ,Light up names Moffat ,Light up names Mold ,Light up names Monifieth ,Light up names Monmouth ,Light up names Montgomery ,Light up names Montrose ,Light up names Morecambe ,Light up names Moreton in Marsh ,Light up names Moretonhampstead ,Light up names Morley ,Light up names Morpeth ,Light up names Motherwell ,Light up names Musselburgh ,Light up names Nailsea ,Light up names Nailsworth ,Light up names Nairn ,Light up names Nantwich ,Light up names Narberth ,Light up names Neath ,Light up names Needham Market ,Light up names Neston ,Light up names New Mills ,Light up names New Milton ,Light up names Newbury ,Light up names Newcastle ,Light up names Newcastle Emlyn ,Light up names Newcastle upon Tyne ,Light up names Newent ,Light up names Newhaven ,Light up names Newmarket ,Light up names Newport ,Light up names Newport Pagnell ,Light up names Newport on Tay ,Light up names Newquay ,Light up names Newry ,Light up names Newton Abbot ,Light up names Newton Aycliffe ,Light up names Newton Stewart ,Light up names Newton Le Willows ,Light up names Newtown ,Light up names Newtownabbey ,Light up names Newtownards ,Light up names Normanton ,Light up names North Berwick ,Light up names North Walsham ,Light up names Northallerton ,Light up names Northampton ,Light up names Northwich ,Light up names Norwich ,Light up names Nottingham ,Light up names Nuneaton ,Light up names Oakham ,Light up names Oban ,Light up names Okehampton ,Light up names Oldbury ,Light up names Oldham ,Light up names Oldmeldrum ,Light up names Olney ,Light up names Omagh ,Light up names Ormskirk ,Light up names Orpington ,Light up names Ossett ,Light up names Oswestry ,Light up names Otley ,Light up names Oundle ,Light up names Oxford ,Light up names Padstow ,Light up names Paignton ,Light up names Painswick ,Light up names Paisley ,Light up names Peebles ,Light up names Pembroke ,Light up names Penarth ,Light up names Penicuik ,Light up names Penistone ,Light up names Penmaenmawr ,Light up names Penrith ,Light up names Penryn ,Light up names Penzance ,Light up names Pershore ,Light up names Perth ,Light up names Peterborough ,Light up names Peterhead ,Light up names Peterlee ,Light up names Petersfield ,Light up names Petworth ,Light up names Pickering ,Light up names Pitlochry ,Light up names Pittenweem ,Light up names Plymouth ,Light up names Pocklington ,Light up names Polegate ,Light up names Pontefract ,Light up names Pontypridd ,Light up names Poole ,Light up names Port Talbot ,Light up names Portadown ,Light up names Portaferry ,Light up names Porth ,Light up names Porthcawl ,Light up names Porthmadog ,Light up names Portishead ,Light up names Portrush ,Light up names Portsmouth ,Light up names Portstewart ,Light up names Potters Bar ,Light up names Potton ,Light up names Poulton le Fylde ,Light up names Prescot ,Light up names Prestatyn ,Light up names Presteigne ,Light up names Preston ,Light up names Prestwick ,Light up names Princes Risborough ,Light up names Prudhoe ,Light up names Pudsey ,Light up names Pwllheli ,Light up names Ramsgate ,Light up names Randalstown ,Light up names Rayleigh ,Light up names Reading ,Light up names Redcar ,Light up names Redditch ,Light up names Redhill ,Light up names Redruth ,Light up names Reigate ,Light up names Retford ,Light up names Rhayader ,Light up names Rhuddlan ,Light up names Rhyl ,Light up names Richmond ,Light up names Rickmansworth ,Light up names Ringwood ,Light up names Ripley ,Light up names Ripon ,Light up names Rochdale ,Light up names Rochester ,Light up names Rochford ,Light up names Romford ,Light up names Romsey ,Light up names Ross on Wye ,Light up names Rostrevor ,Light up names Rothbury ,Light up names Rotherham ,Light up names Rothesey ,Light up names Rowley Regis ,Light up names Royston ,Light up names Rugby ,Light up names Rugeley ,Light up names Runcorn ,Light up names Rushden ,Light up names Rutherglen ,Light up names Ruthin ,Light up names Ryde ,Light up names Rye ,Light up names Saffron Walden ,Light up names Saintfield ,Light up names Salcombe ,Light up names Sale ,Light up names Salford ,Light up names Salisbury ,Light up names Saltash ,Light up names Saltcoats ,Light up names Sandbach ,Light up names Sandhurst ,Light up names Sandown ,Light up names Sandwich ,Light up names Sandy ,Light up names Sawbridgeworth ,Light up names Saxmundham ,Light up names Scarborough ,Light up names Scunthorpe ,Light up names Seaford ,Light up names Seaton ,Light up names Sedgefield ,Light up names Selby ,Light up names Selkirk ,Light up names Selsey ,Light up names Settle ,Light up names Sevenoaks ,Light up names Shaftesbury ,Light up names Shanklin ,Light up names Sheerness ,Light up names Sheffield ,Light up names Shepshed ,Light up names Shepton Mallet ,Light up names Sherborne ,Light up names Sheringham ,Light up names Shildon ,Light up names Shipston on Stour ,Light up names Shoreham by Sea ,Light up names Shrewsbury ,Light up names Sidmouth ,Light up names Sittingbourne ,Light up names Skegness ,Light up names Skelmersdale ,Light up names Skipton ,Light up names Sleaford ,Light up names Slough ,Light up names Smethwick ,Light up names Soham ,Light up names Solihull ,Light up names Somerton ,Light up names South Molton ,Light up names South Shields ,Light up names South Woodham Ferrers ,Light up names Southam ,Light up names Southampton ,Light up names Southborough ,Light up names Southend on Sea ,Light up names Southport ,Light up names Southsea ,Light up names Southwell ,Light up names Southwold ,Light up names Spalding ,Light up names Spennymoor ,Light up names Spilsby ,Light up names Stafford ,Light up names Staines ,Light up names Stamford ,Light up names Stanley ,Light up names Staveley ,Light up names Stevenage ,Light up names Stirling ,Light up names Stockport ,Light up names Stockton on Tees ,Light up names Stoke on Trent ,Light up names Stone ,Light up names Stowmarket ,Light up names Strabane ,Light up names Stranraer ,Light up names Stratford upon Avon ,Light up names Strood ,Light up names Stroud ,Light up names Sudbury ,Light up names Sunderland ,Light up names Sutton Coldfield ,Light up names Sutton in Ashfield ,Light up names Swadlincote ,Light up names Swanage ,Light up names Swanley ,Light up names Swansea ,Light up names Swindon ,Light up names Tadcaster ,Light up names Tadley ,Light up names Tain ,Light up names Talgarth ,Light up names Tamworth ,Light up names Taunton ,Light up names Tavistock ,Light up names Teignmouth ,Light up names Telford ,Light up names Tenby ,Light up names Tenterden ,Light up names Tetbury ,Light up names Tewkesbury ,Light up names Thame ,Light up names Thatcham ,Light up names Thaxted ,Light up names Thetford ,Light up names Thirsk ,Light up names Thornbury ,Light up names Thrapston ,Light up names Thurso ,Light up names Tilbury ,Light up names Tillicoultry ,Light up names Tipton ,Light up names Tiverton ,Light up names Tobermory ,Light up names Todmorden ,Light up names Tonbridge ,Light up names Torpoint ,Light up names Torquay ,Light up names Totnes ,Light up names Totton ,Light up names Towcester ,Light up names Tredegar ,Light up names Tregaron ,Light up names Tring ,Light up names Troon ,Light up names Trowbridge ,Light up names Truro ,Light up names Tunbridge ,Light up namesLight up names ells ,Light up names Tywyn ,Light up names Uckfield ,Light up names Ulverston ,Light up names Uppingham ,Light up names Usk ,Light up names Uttoxeter ,Light up names Ventnor ,Light up names Verwood ,Light up names Wadebridge ,Light up names Wadhurst ,Light up names Wakefield ,Light up names Wallasey ,Light up names Wallingford ,Light up names Walsall ,Light up names Waltham Abbey ,Light up names Waltham Cross ,Light up names Walton on Thames ,Light up names Walton on the ,Light up namesLight up names aze ,Light up names Wantage ,Light up names Ware ,Light up names Wareham ,Light up names Warminster ,Light up names Warrenpoint ,Light up names Warrington ,Light up names Warwick ,Light up names Washington ,Light up names Watford ,Light up names Wednesbury ,Light up names Wednesfield ,Light up names Wellingborough ,Light up names Wellington ,Light up names Wells ,Light up names Wells next the Sea ,Light up names Welshpool ,Light up names Welwyn Garden ,Light up names City ,Light up names Wembley ,Light up names Wendover West Bromwich ,Light up names Westbury ,Light up names Westerham ,Light up names Westhoughton ,Light up names Weston super Mare ,Light up names Wetherby ,Light up names Weybridge ,Light up names Weymouth ,Light up names Whaley Bridge ,Light up names Whitby ,Light up names Whitchurch ,Light up names Whitehaven ,Light up names Whitley Bay ,Light up names Whitnash ,Light up names Whitstable ,Light up names Whitworth ,Light up names Wick ,Light up names Wickford ,Light up names Widnes ,Light up names Wigan ,Light up names Wigston ,Light up names Wigtown ,Light up names Willenhall ,Light up names Wincanton ,Light up names Winchester ,Light up names Windermere ,Light up names Winsford ,Light up names Winslow ,Light up names Wisbech ,Light up names Witham ,Light up names Withernsea ,Light up names Witney ,Light up names Woburn ,Light up names Woking ,Light up names Wokingham ,Light up names Wolverhampton ,Light up names Wombwell ,Light up names Woodbridge ,Light up names Woodstock ,Light up names Wootton Bassett ,Light up names Worcester ,Light up names Workington ,Light up names Worksop ,Light up names Worthing ,Light up names Wotton under Edge ,Light up names Wrexham ,Light up names Wymondham ,Light up names Yarm ,Light up names Yarmouth ,Light up names Yate ,Light up names Yateley ,Light up names Yeadon ,Light up names Yeovil and York. The regions of the UK covered are England ,Light up names Scotland ,Light up names Ireland ,Light up names Northern Ireland and Wales including ,Light up names The North ,Light up names North East ,Light up names North West ,Light up names Midlands ,Light up names East ,Light up names West ,Light up names South East and South West. Light up numbers Bedfordshire ,Light up numbers Berkshire ,Light up numbers Bristol ,Light up numbers Buckinghamshire ,Light up numbers including Milton Keynes ,Light up numbers Cambridgeshire ,Light up numbers Peterborough ,Light up numbers Cheshire ,Light up numbers Cheshire East ,Light up numbers Cheshire West and Chester ,Light up numbers Halton and Warrington ,Light up numbers London ,Light up numbers Cornwall ,Light up numbers Cumbria ,Light up numbers Derbyshire ,Light up numbers Devon ,Light up numbers Dorset ,Light up numbers County Durham Durham ,Light up numbers East Riding of Yorkshire ,Light up numbers East Sussex ,Light up numbers Essex ,Light up numbers Gloucestershire ,Light up numbers Greater London ,Light up numbers Greater Manchester ,Light up numbers Hampshire ,Light up numbers Herefordshire ,Light up numbers Hertfordshire ,Light up numbers Isle of Wight ,Light up numbers Kent ,Light up numbers Lancashire ,Light up numbers Leicestershire ,Light up numbers Lincolnshire ,Light up numbers Merseyside ,Light up numbers Norfolk ,Light up numbers North Yorkshire ,Light up numbers Northamptonshire ,Light up numbers Northumberland ,Light up numbers Nottinghamshire ,Light up numbers Oxfordshire ,Light up numbers Rutland ,Light up numbers Shropshire ,Light up numbers Somerset ,Light up numbers South Yorkshire ,Light up numbers Staffordshire ,Light up numbers Suffolk ,Light up numbers Surrey ,Light up numbers Tyne and Wear ,Light up numbers Warwickshire ,Light up numbers West Midlands ,Light up numbers West Sussex ,Light up numbers West Yorkshire ,Light up numbers Wiltshire ,Light up numbers Worcestershire and every town in the UK including Aberaeron ,Light up numbers Aberdare ,Light up numbers Aberdeen ,Light up numbers Aberfeldy ,Light up numbers Abergavenny ,Light up numbers Abergele ,Light up numbers Abertillery ,Light up numbers Aberystwyth ,Light up numbers Abingdon ,Light up numbers Accrington ,Light up numbers Adlington ,Light up numbers Airdrie ,Light up numbers Alcester ,Light up numbers Aldeburgh ,Light up numbers Aldershot ,Light up numbers Aldridge ,Light up numbers Alford ,Light up numbers Alfreton ,Light up numbers Alloa ,Light up numbers Alnwick ,Light up numbers Alsager ,Light up numbers Alston ,Light up numbers Amesbury ,Light up numbers Amlwch ,Light up numbers Ammanford ,Light up numbers Ampthill ,Light up numbers Andover ,Light up numbers Annan ,Light up numbers Antrim ,Light up numbersAppleby in estmorland ,Light up numbers Arbroath ,Light up numbersArmagh ,Light up numbersArundel ,Light up numbers Ashbourne ,Light up numbers Ashburton ,Light up numbersAshby de la Zouch ,Light up numbersAshford ,Light up numbers Ashington ,Light up numbers Ashton in Makerfield ,Light up numbers Atherstone ,Light up numbers Auchtermuchty ,Light up numbers Axminster ,Light up numbers Aylesbury ,Light up numbers Aylsham ,Light up numbers Ayr ,Light up numbers Bacup ,Light up numbers Bakewell ,Light up numbers Bala ,Light up numbers Ballater ,Light up numbers Ballycastle ,Light up numbers ,Light up numbersLight up numbersBallyclare ,Light up numbers Ballymena ,Light up numbers Ballymoney ,Light up numbers Ballynahinch ,Light up numbers Banbridge ,Light up numbers Banbury ,Light up numbers Banchory ,Light up numbers Banff ,Light up numbers Bangor ,Light up numbers Barmouth ,Light up numbers Barnard Castle ,Light up numbers Barnet ,Light up numbers Barnoldswick ,Light up numbers Barnsley ,Light up numbers Barnstaple ,Light up numbers Barrhead ,Light up numbers Barrow in Furness ,Light up numbers Barry ,Light up numbers Barton upon Humber ,Light up numbers Basildon ,Light up numbers Basingstoke ,Light up numbers Bath ,Light up numbers Bathgate ,Light up numbers Batley ,Light up numbers Battle ,Light up numbers Bawtry ,Light up numbers Beaconsfield ,Light up numbers Bearsden ,Light up numbers Beaumaris ,Light up numbers Bebington ,Light up numbers Beccles ,Light up numbers Bedale ,Light up numbers Bedford ,Light up numbers Bedlington ,Light up numbers Bedworth ,Light up numbers Beeston ,Light up numbers Bellshill ,Light up numbers Belper ,Light up numbers Berkhamsted ,Light up numbers Berwick upon Tweed ,Light up numbers Betws y Coed ,Light up numbers Beverley ,Light up numbers Bewdley ,Light up numbers Bexhill on Sea ,Light up numbers Bicester ,Light up numbers Biddulph ,Light up numbers Bideford ,Light up numbers Biggar ,Light up numbers Biggleswade ,Light up numbers Billericay ,Light up numbers Bilston ,Light up numbers Bingham ,Light up numbers Birkenhead ,Light up numbers Birmingham ,Light up numbers Bishop Auckland ,Light up numbers Blackburn ,Light up numbers Blackheath ,Light up numbers Blackpool ,Light up numbers Blaenau Ffestiniog ,Light up numbers Blandford Forum ,Light up numbers Bletchley ,Light up numbers Bloxwich ,Light up numbers Blyth ,Light up numbers Bodmin ,Light up numbers Bognor Regis ,Light up numbers Bollington ,Light up numbers Bolsover ,Light up numbers Bolton ,Light up numbers Bootle ,Light up numbers Borehamwood ,Light up numbers Boston ,Light up numbers Bourne ,Light up numbers Bournemouth ,Light up numbers Brackley ,Light up numbers Bracknell ,Light up numbers Bradford ,Light up numbers Bradford on Avon ,Light up numbers Brading ,Light up numbers Bradley Stoke ,Light up numbers Bradninch ,Light up numbers Braintree ,Light up numbers Brechin ,Light up numbers Brecon ,Light up numbers Brentwood ,Light up numbers Bridge of Allan ,Light up numbers Bridgend ,Light up numbers Bridgnorth ,Light up numbers Bridgwater ,Light up numbers Bridlington ,Light up numbers Bridport ,Light up numbers Brigg ,Light up numbers Brighouse ,Light up numbers Brightlingsea ,Light up numbers Brighton ,Light up numbers Bristol ,Light up numbers Brixham ,Light up numbers Broadstairs ,Light up numbers Bromsgrove ,Light up numbers Bromyard ,Light up numbers Brynmawr ,Light up numbers Buckfastleigh ,Light up numbers Buckie ,Light up numbers Buckingham ,Light up numbers Buckley ,Light up numbers Bude ,Light up numbers Budleigh Salterton ,Light up numbers Builth Wells ,Light up numbers Bungay ,Light up numbers Buntingford ,Light up numbers Burford ,Light up numbers Burgess Hill ,Light up numbers Burnham on Crouch ,Light up numbers Burnham on Sea ,Light up numbers Burnley ,Light up numbers Burntisland ,Light up numbers Burntwood ,Light up numbers Burry Port ,Light up numbers Burton Latimer ,Light up numbers Bury ,Light up numbers Bushmills ,Light up numbers Buxton ,Light up numbers Caernarfon ,Light up numbers Caerphilly ,Light up numbers Caistor ,Light up numbers Caldicot ,Light up numbers Callander ,Light up numbers Calne ,Light up numbers Camberley ,Light up numbers Camborne ,Light up numbers Cambridge ,Light up numbers Camelford ,Light up numbers Campbeltown ,Light up numbers Cannock ,Light up numbers Canterbury ,Light up numbers Cardiff ,Light up numbers Cardigan ,Light up numbers Carlisle ,Light up numbers Carluke ,Light up numbers Carmarthen ,Light up numbers Carnforth ,Light up numbers Carnoustie ,Light up numbers Carrickfergus ,Light up numbers Carterton ,Light up numbers Castle Douglas ,Light up numbers Castlederg ,Light up numbers Castleford ,Light up numbers Castlewellan ,Light up numbers Chard ,Light up numbers Charlbury ,Light up numbers Chatham ,Light up numbers Chatteris ,Light up numbers Chelmsford ,Light up numbers Cheltenham ,Light up numbers Chepstow ,Light up numbers Chesham ,Light up numbers Cheshunt ,Light up numbers Chester ,Light up numbers Chester le Street ,Light up numbers Chesterfield ,Light up numbers Chichester ,Light up numbers Chippenham ,Light up numbers Chipping Campden ,Light up numbers Chipping Norton ,Light up numbers Chipping Sodbury ,Light up numbers Chorley ,Light up numbers Christchurch ,Light up numbers Church Stretton ,Light up numbers Cinderford ,Light up numbers Cirencester ,Light up numbers Clacton on Sea ,Light up numbers Cleckheaton ,Light up numbers Cleethorpes ,Light up numbers Clevedon ,Light up numbers Clitheroe ,Light up numbers Clogher ,Light up numbers Clydebank ,Light up numbers Coalisland ,Light up numbers Coalville ,Light up numbers Coatbridge ,Light up numbers Cockermouth ,Light up numbers Coggeshall ,Light up numbers Colchester ,Light up numbers Coldstream ,Light up numbers Coleraine ,Light up numbers Coleshill ,Light up numbers Colne ,Light up numbers Colwyn Bay ,Light up numbers Comber ,Light up numbers Congleton ,Light up numbers Conwy ,Light up numbers Cookstown ,Light up numbers Corbridge ,Light up numbers Corby ,Light up numbers Coventry ,Light up numbers Cowbridge ,Light up numbers Cowdenbeath ,Light up numbers Cowes ,Light up numbers Craigavon ,Light up numbers Cramlington ,Light up numbers Crawley ,Light up numbers Crayford ,Light up numbers Crediton ,Light up numbers Crewe ,Light up numbers Crewkerne ,Light up numbers Criccieth ,Light up numbers Crickhowell ,Light up numbers Crieff ,Light up numbers Cromarty ,Light up numbers Cromer ,Light up numbers Crowborough ,Light up numbers Crowthorne ,Light up numbers Crumlin ,Light up numbers Cuckfield ,Light up numbers Cullen ,Light up numbers Cullompton ,Light up numbers Cumbernauld ,Light up numbers Cupar ,Light up numbers Cwmbran ,Light up numbers Dalbeattie ,Light up numbers Dalkeith ,Light up numbers Darlington ,Light up numbers Dartford ,Light up numbers Dartmouth ,Light up numbers Darwen ,Light up numbers Daventry ,Light up numbers Dawlish ,Light up numbers Deal ,Light up numbers Denbigh ,Light up numbers Denton ,Light up numbers Derby ,Light up numbers Dereham ,Light up numbers Devizes ,Light up numbers Dewsbury ,Light up numbers Didcot ,Light up numbers Dingwall ,Light up numbers Dinnington ,Light up numbers Diss ,Light up numbers Dolgellau ,Light up numbers Donaghadee ,Light up numbers Doncaster ,Light up numbers Dorchester ,Light up numbers Dorking ,Light up numbers Dornoch ,Light up numbers Dover ,Light up numbers Downham Market ,Light up numbers Downpatrick ,Light up numbers Driffield ,Light up numbers Dronfield ,Light up numbers Droylsden ,Light up numbers Dudley ,Light up numbers Dufftown ,Light up numbers Dukinfield ,Light up numbers Dumbarton ,Light up numbers Dumfries ,Light up numbers Dunbar ,Light up numbers Dunblane ,Light up numbers Dundee ,Light up numbers Dunfermline ,Light up numbers Dungannon ,Light up numbers Dunoon ,Light up numbers Duns ,Light up numbers Dunstable ,Light up numbers Durham ,Light up numbers Dursley ,Light up numbers Easingwold ,Light up numbers East Grinstead ,Light up numbers East Kilbride ,Light up numbers Eastbourne ,Light up numbers Eastleigh ,Light up numbers Eastwood ,Light up numbers Ebbw Vale ,Light up numbers Edenbridge ,Light up numbers Edinburgh ,Light up numbers Egham ,Light up numbers Elgin ,Light up numbers Ellesmere ,Light up numbers Ellesmere Port ,Light up numbers Ely ,Light up numbers Enniskillen ,Light up numbers Epping ,Light up numbers Epsom ,Light up numbers Erith ,Light up numbers Esher ,Light up numbers Evesham ,Light up numbers Exeter ,Light up numbers Exmouth ,Light up numbers Eye ,Light up numbers Eyemouth ,Light up numbers Failsworth ,Light up numbers Fairford ,Light up numbers Fakenham ,Light up numbers Falkirk ,Light up numbers Falkland ,Light up numbers Falmouth ,Light up numbers Fareham ,Light up numbers Faringdon ,Light up numbers Farnborough ,Light up numbers Farnham ,Light up numbers Farnworth ,Light up numbers Faversham ,Light up numbers Felixstowe ,Light up numbers Ferndown ,Light up numbers Filey ,Light up numbers Fintona ,Light up numbers Fishguard ,Light up numbers Fivemiletown ,Light up numbers Fleet ,Light up numbers Fleetwood ,Light up numbers Flint ,Light up numbers Flitwick ,Light up numbers Folkestone ,Light up numbers Fordingbridge ,Light up numbers Forfar ,Light up numbers Forres ,Light up numbers Fort William ,Light up numbers Fowey ,Light up numbers Framlingham ,Light up numbers Fraserburgh ,Light up numbers Frodsham ,Light up numbers Frome ,Light up numbers Gainsborough ,Light up numbers